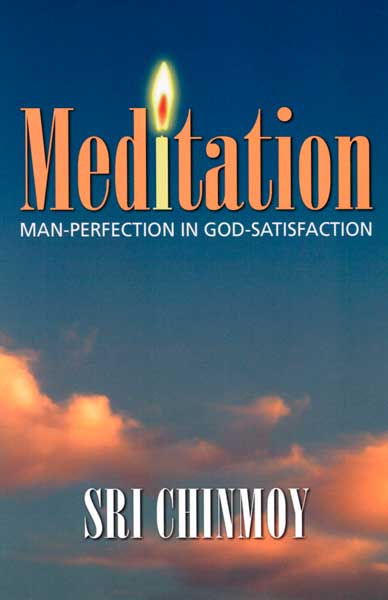 The authoritative guide to meditation
No-nonsense instructions

Written by an enlightened meditation master
Sri Chinmoy's work has inspired spiritual growth, resilience and well-being. His is a voice of reason we all must heed.
I am so pleased with all the good work Sri Chinmoy is doing for world peace and for people in so many countries.
Sri Chinmoy enriched the lives of countless others. His legacy of kindness, reflection, and resolve will endure for many years to come.
about the book
Do you want the real deal in learning how to meditate? Meditation by world-renowned author Sri Chinmoy quickly brings you up to speed with easy-to-follow exercises, priceless practical advice and deep spiritual wisdom. A 21st century manual to discover your eternal treasures within.
 topics include:
Meditation techniques that anyone can learn
How to find – and keep – lasting inner peace
How to break through negative emotions like anger and fear
Discovering the 'voice of silence' within you
Awakening the heart centre to discover the power of your soul
about the author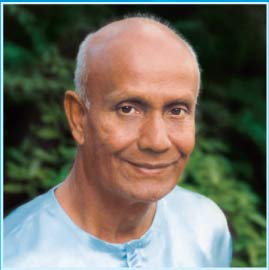 Sri Chinmoy is an internationally renowned spiritual leader, peace luminary and friend of humanity. He led the Peace Meditation at the United Nations for 37 years and created many initiatives for world-peace through culture and sports. Sri Chinmoy passed on in 2007, and his work has been extolled by leaders from all walks of life.
Reviews of Meditation by Sri Chinmoy
"I love this book – I've owned it for years. From my own experience of 30+ years of following it's instructions: it works."
"This is a great book! If you read this book with an open mind and open heart you will "experience" meditation while reading. Sri Chinmoy expresses the beauty of the inner life with his poetic use of language (like all true masters), yet with a purity, simplicity and clarity that reaches and teaches the heart rather than the mind. There is no doubt in reading this book that Sri Chinmoy is writing from his direct and first-hand experiences and is clearly a leading authority on this subject"
"I highly recommend this book. Sri Chinmoy is not the only teacher of meditation, but he is certainly one of the best. To me, one of the hardest things about meditation is to feel a sense of inspiration, not just sit mechanically. I can feel the truth in Sri Chinmoy's words, and this gives me inspiration to take meditation to the next level"
"Even if you don't plan to meditate, this book is an inspiration to read. I have owned "Meditation" for years, I have several copies that have been loaned out to friends. Some copies I never saw again – several friends started practicing due to the inspiration gleamed from the writings, so I'm okay with "paying it forward." So simple and clear, and there is so much authority in the writings. Sri Chinmoy really wrote for the westerner, and he lived such a unique life, I am sure people will study him far into the future"
"This book describes in detail and clarity, the various techniques for concentration, visualization, meditation and contemplation (the stages of Yoga). Sri Chinmoy also discusses the philosophy and idealogy of Yoga, so that it is an invaluable aid/reference to meditation students of all levels of expertise. I have personally given numerous copies to family and friends, and consider "Meditation" by Sri Chinmoy to be one of the most important books a person can purchase in their life."
An excerpt from the book:
We meditate because this world of ours has not been able to fulfil us. The so-called peace we feel in our day-to-day lives is five minutes of peace after ten hours of anxiety, worry and frustration. We are constantly at the mercy of the negative forces that are all around us: jealousy, fear, doubt, worries, anxiety and despair. These forces are like monkeys. When they get tired of biting us and take rest for a few minutes, then we say that we are enjoying peace. But this is not real peace at all, and ther next moment they will attack us again.
It is only through meditation that we can get lasting peace, divine peace. If we meditate soulfully in the morning and receive peace for only one minute, that one minute of peace will permeate our whole day. And when we have a meditation of the highest order, then we get really abiding peace, light and delight. We need meditation because we want to grow in light and fulfil ourselves in light . If this is our aspiration, if this is our thirst, then meditation is the only way.
How to Order
Order through
Amazon
available for just
$9.99
You can also order from Heart-Light Distributors by calling
1-800-739-2885
.
Visit site »